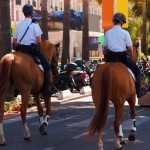 Flipping through Facebook, I stumbled on a neat article that is related to policing, from a website that is not law enforcement related.  Many of the better things I find are from other perspectives and industries.
The website horsechannel.com recently posted Better Community Policing through Horses.  The article cites several key findings based on research conducted by the University of Oxford and RAND Europe that support the value that a mounted unit can offer a police department and community.
I have no doubt that officers on horseback provide an effective bridge to communicating with the public.  The horse is a natural ice-breaker; moving people to connect with the horse and in turn, the officers riding them.  Add on the value the mounted unit brings for tactical opportunities, and we have a win-win.
The business side is the justification of the costs associated with the mounted unit.  Living animals are expensive to buy, house, feed, train and care for.  There are other costs as well, in the way of opportunity costs; is there more utility in an officer in a cruiser than on horseback?  As the article indicates, many departments have had to abandon their units due to budget cuts.  That had to be a tough decision; rebuilding a unit will cost much more down the road if the opportunity arises.
Evaluating the return on an investment like this is difficult, like many other programs in policing.  There will not be any financial measurements available to determine whether or not it is worth the money spent.  We have to look more at the real bottom line in policing; are we satisfying the community and building trust?
Maybe we need to be a little selfish in this area.  We should have the opportunity to brand and market ourselves, especially in light of the fact that there are less than favorable influences that are defining who the police are and how they operate.  And getting your word and your image out there costs money sometimes; everything has a cost.  So how much is the reputation of your agency and its officers worth?
Wouldn't it be something to see a line item in a police budget for branding and marketing?
© 2014 DAVID A. LYONS