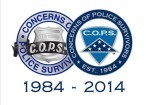 From the desk of Madeline Neumann, National President of Concerns of Police Survivors, Inc.:
Dear Chapter Representative and Fellow Survivor,

National C.O.P.S. can no longer sit by and watch the law enforcement profession in this country be vilified, targeted and executed. We need to act NOW. The Board and our wonderful staff have prepared a national campaign to show support of all law enforcement. C.O.P.S. has declared Friday, January 9th as Law Enforcement Appreciation Day (L.E.A.D.). "It's a New Year, Let's Take the L.E.A.D.!" We need your help!

C.O.P.S. is partnering with national law enforcement associations to kick off a L.E.A.D. Campaign. We will provide you with a list of organizations that have agreed to partner with us just as soon as we have it. I have attached an outline of the campaign along with ways your chapter can participate. You may also be creative in your response. We are sure you have good ideas. Realizing that the office will be closed for the holidays through January 1st, if you have any question after today you can reach out to your Trustee or any national Board member.

Together we can make a difference. We need to sway public opinion of law enforcement before any more officers are killed. Police officers are NOT the enemy!