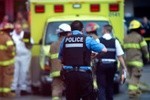 Policing takes on new roles and methods regularly; its how we stay up-to-date and actively participate in the process of ongoing or continuous improvement. If we are not watching our environment, we are on our way to trouble.
But there is one thing that police will never be. Ever.
Responding to the fire storm of anti-police rhetoric last year in an op-ed piece that appeared in the Florida Times-Union by Flagler County Florida Sheriff's Office Detective Jonathan Dopp, Dopp concluded his article with a simple statement that we can all agree with.
Click here, read his article, and let me know what you think.
"There is one thing, however, that we will not be for you."

Jonathan Dopp
---
© 2015 DAVID A. LYONS