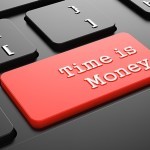 If it is true that everything has a cost, it might be just as true that time itself is very expensive.  Wasted time can have a financial cost (what we pay employees) as well as an opportunity cost (we could have been working on another project or task that would have yielded a better return on the time we invested).
Several years ago when I got assigned as a homicide detective, the best advice I received came from a veteran detective who told me that everything revolved around time management, and he was absolutely correct.
Tom Clark's article, Five Keys to Better Time Management, is an excellent piece that lays out tips for improving time management skills.  Better time management leads to more efficient operations, reductions in costs and reduced frustration.
While reading Tom's article, I also realized that his five keys would be helpful to a police officer or police supervisor completing a promotional process, particularity during the assessment center exercise.
What are some examples of areas in policing where time management is critical, or could benefit if time management were improved?
Time is money. Wasted time means wasted money means trouble.

Shirley Temple
© 2014 David A. Lyons