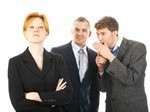 One of the unique leadership and management challenges in law enforcement that I have seen over the years is with regard to our civilian staff members.  Most supervisors that I have known will say that supervising civilians is  very different that supervising sworn personnel.  I agree.  I would never say it is more difficult, but there are distinct differences between the way sworn personnel and civilian personnel respond to sworn supervision, form relationships in the organization and view job satisfaction and reward.
I have had the opportunity to lead civilian staffers in my career and have always enjoyed it. Granted, I have been blessed with amazing people and remain fortunate to this day, but regardless of the great hand I have been dealt, I have learned a great deal from working with my civilian staff.  I learned even more about leadership and myself when things were not going so well.
The first thing I make sure I remain aware of, especially with new hires, is that these people have walked into a culture that few people ever get to experience.  The police culture can be a vacuum and sometimes less than friendly until the members accept the newcomers.  If we are going to develop a new civilian properly and give them a fair shake, we have to remember that they might feel more familiar stepping onto the surface of Mars, then walking through the doors of a police department.
Worth a Look
I am sharing a very insightful blog post that was authored by Levi Giraud, the crime analyst for the Fargo Police Department and host of his blog, The Crime Analyst Hotspot. In Levi's post, If You Don't Have Anything Nice To Say, Don't Say Anything At All, we get a glimpse of the civilian perspective.  Arguably, it may not be too different form other workplaces in this case, but we need to make sure we recognize it in our industry.
Take a few minutes to read Levi's post, look over his blog and sign up for updates on his blog site.  The Crime Analyst Hotspot is one of my favorite blogs.
Developing an awareness and respect for the civilian's perceptions in the police workplace is fundamental to developing effective teams in the police workplace.  And let's not forget after all, that the civilian staff in a PD is the hidden backbone of successful police departments.
What practices does your police department engage in that help civilians integrate into the police culture?