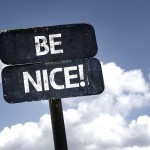 Here is an interesting article that posted this week in the Wisconsin Rapids Tribune:

Wood County Sheriff Thomas Reichert has a new, two-word policy that he wants every deputy in his department to adopt as a mantra: Be nice.
I feel pretty sure that just the words kinder and gentler found next to the word police can get a few hearts racing. Give this a read. He's on the right track.
Think it could fly in your agency?
---
© 2015 DAVID A. LYONS