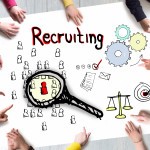 Where We Were…
Well, over 20 years ago, I reported to a large auditorium to take a written test for the position of a police recruit. The auditorium was filled with hundreds (and I mean hundreds, nearing 1000) of other applicants taking the same test. Months later when I was selected, I was part of a class of 10 recruits (yes 10, all the digits are there).
How do you whittle 1000 down to 10? No agency could ever afford to evaluate and investigate that many applicants individually.
You eliminate large numbers of candidates in steps. The application process usually uses a large selection of the pool; minimum standards are not met or the applications are not complete (so that 1000, was actually larger!). The written test brutally takes on who is left. The day I took the test, long sheets of green and white computer printer paper were hung in the hallway of the auditorium, with the names of those that passed and would be moving on to the next steps. You knew that night if you were in or out, at least to that point.
The list shaving moves on; physicals, PT tests, psychs, oral boards, background investigations…. until the list is small enough to start selecting recruits.
The process moved perfectly as designed: enough applicants were screened out to create a pool of people that could be checked thoroughly and start a recruit class.
Things change.
What if some of those applicants that were eliminated were actually capable, maybe even a perfect fit, if not for a technicality?
What happens when you go from over 1000 applicants to 100 and you are hiring 50?
Did the process arbitrarily remove females and minorities that you desperately need?
What happens when there are seismic shifts in the demands the community has for the policing industry that change the makeup of the department ?
Where We Are
Things have definitely changed; few of us from 2 or 3 decades ago would have ever guessed that things would have ever changed.
In many cases, the packed auditoriums have evolved into walk-in 'please come and try this test' environments; a small classroom might be too big now. Given the competitive employment field for young educated men and women where they can find physically and mentally safer careers for greater pay, recruiting is more difficult than ever.
The current anti-authority rhetoric in the media and social media is a very powerful challenge to recruiting. While it is true that most of us, and thankfully many young people, would and will come to this career, how many have heard those retiring say they were leaving at the right time; the best of days of their career are long behind them? The challenge is real; no putting any lipstick on this pig (no pun intended).
Toss in the complexity brought to the table due to fact our pool is mostly the millennial generation and the hurdle is higher.
The days of filtering applicants 'out' are done; the days of filtering 'in' are here.
A quick clarification: this has nothing to do with lowering standards (many think it is). It is actually a way of making sure they are maintained, or actually raising the bar.
When departments use the screening out process, they are often left with substandard candidates. Screening out does not distinguish between mediocre and outstanding candidates.
Selecting 'in' is not new in the policing industry, but it certainly is becoming more relevant as time passes. The conventional KSAs (knowledge,  skills and abilities) are in question to some degree; the emphasis now shifting to more advanced critical thinking, problem solving and communication skills.
What most police veterans saw as 'new' when it came to Community Oriented Policing and the training of entire agencies, is now nearly a requirement when looking at candidates, at least a high aptitude for hitting the ground running with it as an understood requirement.
Who we hire must be a reflection of what the future of the police industry looks like, not the shadow of the past.
The November 2015 Police Chief Magazine published a terrific article by Suzanne Steel-Claridge, MCJ, an Operations Review Specialist with the Florida Highway Patrol in Tallahassee Florida titled:
Well worth the read; Steel-Claridge offers up a researched approach to concept.
Does your department screen 'IN' or 'OUT'?
---
© 2015 DAVID A. LYONS