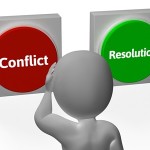 In the business we call policing, we usually find a continuum for Use of Force or Response to Resistance (if there is not one or something similar to it, problems are likely to arise).
These are pretty much a true need for the external threats, but how do we handle conflicts internally and do we do so in a way that defines the risks and rewards, or compliments the police department's mission?
Lorene Schaefer's recent blog post titled  Workplace Conflict: The Continuum of Dispute Resolution offers a detailed insight into conflict that I could see as useful for disagreements, grievances and union or collective bargaining negotiations.