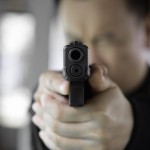 ---
We become what we behold. We shape our tools and then our tools shape us.

Marshall McLuhan
Perspective. Sometimes we need to see things from different sides of an issue to get a better understanding of what is going on.
Most of the current dialogue about "the militarization of the police" is exaggerated. The term itself is suspect; another in a long line of catch phrases with ambiguous definitions that are usually created to support false arguments.
However, there are times when policing fuels these debates by using tools or tactics at the wrong time or in the wrong place. Every tool has a specific purpose. Use the wrong tool for the job, and good luck with the results.
A good friend forwarded a link to this opinion piece he saw in the Washington Post. The author, Alex Horton, made several good points when he wrote In Iraq, I raided insurgents. In Virginia, the police raided me. Well worth a look, take the time to read this.
When do we get out the big guns or the higher tactics?
---
© 2015 DAVID A. LYONS