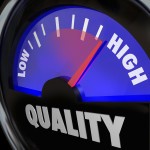 Most of us know excellent customer service when we see it.  The best experiences stay with us and we share them with people we know.  I have had a few amazing experiences in the last year that have stood out. The ones that come to mind were not simply one customer service representative (which granted, always speaks well  of the employee); these were times when everything from my arrival to my departure, were off the hook great.
The short list is a resort in Jamaica, a couple of casinos in Indiana and Ohio and most recently a huge resort in Nashville Tennessee.  No detail was left unchecked, every employee was on board and strangely enough, management was virtually invisible (yes, invisible). How could this be?
It is not a big mystery or luck that some businesses outperform others in customer service; it's a matter of having the right culture, based on a well thought out value chain and driven leadership that lifts the best to the top of the game. This is what gets the 'wow' response from customers, encourages them to return over and over again and reminds them to tell friends about the experience.
The same concepts that these businesses use can be implemented in policing. I know that it's not easy or simple; the policing culture is unique unto itself and that brings a different set of challenges and demands. But at a core level, likely to go unnoticed by the community and sometimes by members of the police department, there are several ways a department can improve to run smoother and develop progressive cultures that support better customer service. The trick is to add value to every step that is taken and every step must support the mission of the agency.
Here is a starter list. Trust me, every one of these are related and are part of a composite end that creates a better service culture through a process of ongoing improvement:
Double check to make sure community relationships are developed and cultivated sincerely.  That is our bread and butter, where our bottom line can be found. Maybe triple check this one, it is that important. Don't assume any of this. Ever. These are long-term relationships, as in, forever, so they have to be worked on constantly. Every department member, sworn and unsworn, is on this front line.
Culture eats strategy for lunch. Check on the morale and motivations of the personnel in each function of the police department. Make sure that everyone understands the importance that they play in the operation of the agency as a whole. Every department employee should be aware of the mission and strategy of the PD. Everything that takes place must support the same. If there is any uncertainty, put your best leaders to work in these areas to get buy in and ownership. Recognize and reward exceptional behavior and develop those that are lacking, but have the heart  and ability to do better. For those that do not respond to your best efforts? Unload them. Yes, I said that. I am heartless I guess.
Identify and support the dependencies between the functions of the PD. Admittedly, this can be difficult in police departments.  Fiefdoms, vacuums and silos are not uncommon in the industry; often established and fortified because of individual personalities.  Sad? Frustrating? Counter-productive?  Absolutely.  Find the walls and tear them down.
Regardless of the industry, internal policy is the biggest threat to efficiency. Be wary of traditional approaches and processes.  The worst philosophy known to man is 'we've always done it this way'.  If 'this way' really works, leave it alone. But test it thoroughly first to make sure it is effective and relevant.
Explore the possibility of using Lean, Six Sigma and the Theory of Constraints (TOC) to improve quality and efficiency. At the least, start using them in individual functions then bridge them together.  I will be exploring these in the near future as part of the Process of On-Going Improvement.
Verify that money spent is well spent.  Each area in the PD should be examined to verify that all of the operations and projects that are in place are subordinated to the mission and strategy of the police department.  If explanations as to how a given process or project are related to to the mission of the agency meander and take too long to explain, those items need a little more scrutiny.  Make sure that the returns on investments are the best they can be and that time (which is money and opportunity) is being spent on worthwhile ventures that support the current strategic plan.
Identify opportunities to outsource processes that are bearing down on your personnel resources.  The make-or-buy decision cannot be made if no one understands what the impact of an in-house operation is having on the organization as a whole. Why develop software and technology that is already available?  Never steal from Peter to pay Paul, Peter does not like it.
What do you think are some other things that will improve the quality of police services?
© 2015 DAVID A. LYONS