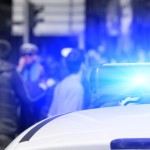 What was the first thought that flashed through your mind when you read the title of this post? Did you pick a side? Good? Bad? Some are good? Some are bad? What kind of dumb question is that? What are you getting at?
Building brand equity in the policing industry, that's where this post is going.
Branding is usually associated with marketing of goods and services we buy as consumers. We are bombarded with branding messages wherever we go; some messages are subtle, some loud and proud. Branding is typically defined as the marketing practice of creating a name, symbol or design that identifies and differentiates a product from other products.
Policing is branded; there is no mistaking the images of badges, uniforms, cars and guns for hardly anything else. As far as the definition of branding goes, we can check the name, symbol and design elements off of the list.
But what about the part of the definition that speaks of identifying and differentiating a product from other products? What does that have to do with policing?
As police we certainly do not need to attract more customers or drum up more business, and we are not competing with anyone for 'business'. I would suggest that we have competition though; we are and have been competing for a favorable image in a world that is stacking negative messages against us. We are in a battle to differentiate our profession from the false version of who we are that has been peddled for years.
Policing has been a giant money maker for a lot of people and businesses, other than the police. Think about how many television shows and movies have been created that were based on policing.  Think about who leads the 11 o'clock news almost nightly and fills the front pages of newspapers. If it bleeds it reads. And if it reads, it sells advertising.
The question of the day is: what kind of branding does all of this attention create for policing? I don't think it does us a lot of favors.
Movies and TV? I can count on one hand how many films and shows paint the policing industry favorably. Most focus on the negative parts of the police culture and the human failures that are experienced. The exceptions, police corruption and incompetence, become the rule.
The news programs are not much better. Occasionally, there may be a human interest story that covers the police politely, but it's the darker stories that run more often.
Add in social media and the internet as whole, and the force multiplier is incredible.
All of this has a profound impact on how the police are perceived by the public and sadly, most of it is out of the control of the policing industry.
We own a little of the bad message. The policing industry has a long history of struggling through corruption and bad behavior as it professionalized. Even today, we still find officers that use excessive force, ignore constitutional law or simply treat people like dirt. They are truly few in number, but none the less, give us a black eye, two if they are really boneheaded. We can control this part, if we want to bad enough. I know I want to see this change.
But how do we get the dog back to wagging the tail when it comes to the external forces that are casting a bad light one us? Can we control this?
Are there ways we can impact the TV and movie industries? That's a tough one. I have always been curious when I watch credits at the end of some movies and shows and 'consultants' are listed. I would hope that a self respecting cop would think twice about taking a job consulting on a project that disparages the police. We certainly don't have to pay to see this junk and we should encourage others to avoid it as well.
The TV news is tricky too. What if we took advantage of today's relatively inexpensive technology and produced our industry news ourselves? The public has an insatiable curiosity about what we do and what we see; I say let them hear it straight from the source, commercial free and close to real time. Media outlets would get their news from our sites. Talk about getting scooped.
Let's crowd this one; how can this be turned around and brand policing in a beneficial light?
"The power of the brand is not in the name but what has been invested in that name over the years."
― Bernard Kelvin Clive
© 2015 DAVID A. LYONS